1099-R: Box 5 and how to request a duplicate 
If you received a TRS benefit in 2017, the Office of the Comptroller mailed an IRS Form 1099-R to you by 
Jan. 31, 2018. This form will report your income received from TRS during 2017.

The amount shown in Box 5 on the 1099-R form represents the non-taxable portion of TRS retirement benefits paid to you for the year (see graphic below) and is the difference between Boxes 1 and 2a. Box 5 does not represent the amount of your TRIP premiums for 2017.  Box 9B will only have a value if 2017 was the first year that you received a benefit from TRS.

If you did not receive a 1099-R form by Feb. 15, 2018 or you need a duplicate copy sent to you, please log in to the secure Member Account Access area. Annually after Feb. 1, you may request a duplicate 1099-R online for a prior year. Duplicates are mailed by the Illinois Comptroller's Office.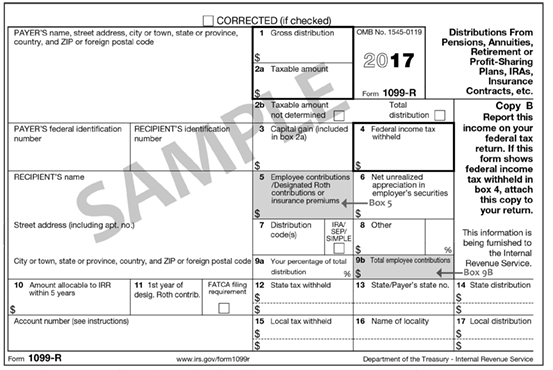 If you have not yet set up your online member account, please watch this video to learn how: https://www.trsil.org/videos/accessing-your-trs-member-account-online. Your member ID is required to set up an account. 
Teachers' Retirement Insurance Premiums 
You can view and print your TRIP premium statements. Please select this link for directions.
How to change tax withholding for 2018
Newly revised federal income tax withholding tables have been implemented and will affect your annuity payment. These latest tax withholding tables reflect the changes in federal income tax rates that became law in December of 2017.
You may wish to contact a qualified tax advisor or the Internal Revenue Service at (800) 829-1040 to ensure that your federal income tax withholding request for the 2018 tax year is adequate for your needs. The amount of money you withhold from your TRS annuity for federal income taxes plays a role every April in whether you owe the government money or the government owes you.
TRS cannot give tax advice.
However, if you would like to change your withholding request, you must complete a new IRS Form W4-P.
To get a new W4-P form, you may print a personalized form online from the secure Member Account Access area of the TRS website or download the blank W-4P Withholding Certificate for Pension or Annuity Payments. When you complete and submit a new Form W4-P, it replaces any previous withholding information on file with TRS and the IRS.